The Government has invested in climate friendly initiatives that also support better, equitable living conditions for New Zealanders.
Further groundwork is also being undertaken by the Government in the form of more investment in green initiatives and science to support emissions reductions and climate friendly policy.
STATE OF THE SECTOR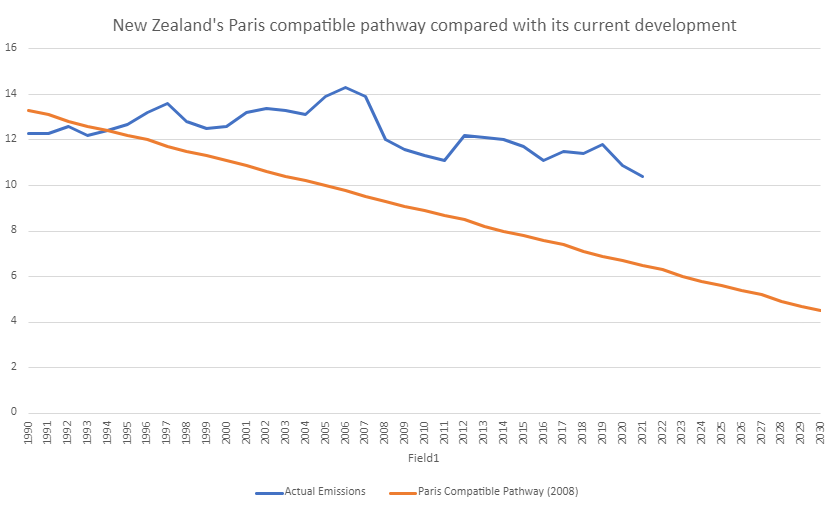 Tackling Emissions
New Zealand has committed to reaching net-zero carbon emissions by 2050 and to reducing emissions to 50% below 2005 levels by 2030. However, the Government's policies in the short term have been described as insufficient to meet these commitments.
New Zealand relies heavily on forestry planting and buying offshore carbon credits to do our emissions reduction work for us, compared to reducing gross emissions domestically. The Climate Change Commission has outlined that New Zealand needs to put a stronger emphasis on reduction efforts rather than relying on forestry investment alone.
The Government's proposed system to put a price a price on emissions from agricultural activities (which contributes to half of the country's total greenhouse emissions) has been under consultation. Unfortunately, the alternative to the Emissions Trading Scheme (ETS) will not require agriculture to be included until 2025.
The Climate Change Commission has advised that developing targeted, complementary policies to support the most disadvantaged will better enable us to address issues of social and economic equity and tackle climate change in parallel, compared to just relying on ETS pricing.
Expanding Climate Friendly Initiatives
In Budget 2022 the Government introduced the Climate Emergency Response Fund (CERF), a fund using ETS revenue to fund emissions reduction initiatives. Treasury's most recent reporting on the CERF showed the fund had around $3.6 billion in it, and that spending in the 2022/23 year was around $157 million less than budgeted. The Government's recent policy prioritisation also scrapped or deferred around $1 billion in funding that was earmarked for emissions reduction initiatives.
Cyclone rebuild
The Government has been extremely busy leading the recovery following Cyclone Gabrielle, including recently setting up a taskforce to ensure a local-led recovery supported by Government.
As weather-related events are expected to become more frequent in the future, the Government's focus will be on cost sharing to prevent future administrations from shouldering increasingly substantial financial burdens. The Government aims to minimise its future liabilities by enhancing internal resilience and capabilities to effectively respond to weather-related events.
Note that cyclone response related measures in Budget 2023 are found throughout this document in relevant sections.
BUDGET ACTIONS
Green investments boosted
In another announcement before Budget Day, Climate Change Minister James Shaw set out funding support in the way of a $300 million boost to New Zealand Green Investment Finance Ltd, taking its total funding up to $700 million.
The "Green Investment Bank" established by the Government seeks to accelerate investments that reduce emissions. Minister Shaw believes that this increased funding will create "greater opportunity to develop low carbon projects, drive down emissions, and create green jobs".
Climate Emergency Response Fund (CERF)
Two of the most significant climate-related initiatives covered by the CERF are the extension of free and half price public transport fares, and the programme to fund home heating, insulation and lighting.
Other significant CERF funded initiatives include:
Renewable energy initiatives of $50 million in remote, low-income, and energy-insecure communities.
A grant scheme of $30 million for clean heavy vehicles to increase the adoption of zero-emissions trucks, non-public transport buses and heavy vans
Climate data infrastructure, 3D coastal mapping, and community access to data funded for $39.2 million; and
A significant investment of $120 million for electric vehicle charging infrastructure.
Climate science
A significant investment was made into the creation of three science and innovation hubs. One hub will focus on climate change and disaster resilience as part of a national centre for research on oceans, climate, and hazards. $400 million in capital expenditure across the three hubs will be supported by $51 million operating investment over a 4-year period starting in 2023/24.
Agriculture emissions – a start
$3 million a year (for the financial years 2023/24 to 2026/27) is being provided to the Climate Change Commission to provide advice to Ministers to inform decisions on agricultural emissions levy rates.
Scrapping Clean Cars scheme returns big surplus
Savings of $567 million total has come from the Government's decision to not implement the Clean Car Upgrade Scheme
Significant spending to recover from Cyclone Gabrielle
The Government announced significant funding to help rebuild cyclone- and flood-affected areas.
The package, totalling $1,136 billion ($941 million operating, and $195 capital) included:
$475 million to rebuild road and rail links.
$116 million to rebuild all the schools impacted.
Around $100 million to raise stop banks and shore up lifelines for flood protection.
$35 million for rural safety and wellbeing support.
$10 million for community-led support for mental health.
$6 million boost for employment and social support for workers and businesses.
This adds to the around $890 million support already provided by the Government to rebuild from the cyclone.
Treasury forecasted the economic impact of the Cyclone, in the Budget Economic and Fiscal Update 2023. It estimates that:
Damage to physical assets sits between $9–14.5 billion.
$400–600 million of output was lost in the first half of 2023.
Exports fell by $1 billion against forecast.
It will cost just under $2 billion to replace damaged homes, and $900 million to replace damaged household items.
The National Resilience Plan outlined in Budget 23 will contribute to address the country's infrastructure deficit with a $6 billion investment, focused initially with the Cyclone rebuild.
CTU ANALYSIS
Climate change will continue to be a growing concern for the planet and its people. Significant climate initiatives in Budget 23 include the extension of free and half-price public transport fares, and the programme to fund home heating, insulation, and lighting. These are both examples of climate action that also improves equity by reducing costs for the most vulnerable people, which is a positive.
We applaud the funding allocated for emissions reductions through New Zealand Green Investment Finance, as well as for renewable energy projects in remote, low-income, and energy-insecure communities. More ambitious action is required to effectively address the imminent threat of climate change. We must take steps that fulfil our international commitments and emissions reduction goals.
As expected, a significant portion of the Budget is dedicated to rebuilding from extreme weather events.
Funding in rebuilding critical infrastructure in a way that also prepares for the future of more extreme weather is positive to see. More heartening is the support provided for people in the rebuild. Investment in mental health services, wellbeing, and resilience ensure that people are the focus of the rebuild.
These investments highlight the Government's commitment to enhancing our future capability and resilience, providing a solid foundation for ongoing progress. The initiatives outlined in Budget 23 reaffirm the Government's dedication to ensuring that New Zealanders receive the necessary support to address the impacts of climate change.