ECE makes important and necessary gains, with an extension of 20 hours free ECE to 2-year-olds.
Challenges remain in compulsory and tertiary education, particularly to meet the cost of living.
"We welcome this budget as a step in the right direction in that it prioritises apprentices, trainee teachers and continues to find pathways for upholding the targeted training and apprenticeship fund and fees free. We acknowledge the receptiveness that the government has shown to student campaigns in areas such as free public transportation, climate, the winter energy payment and research but the effectiveness of the investment remains to be seen."

NZUSA National President Ellen Dixon
STATE OF THE SECTOR
Early Childhood & Statutory Education
Budget 2023 arrives at a time of widespread industrial action across the education sector. The issues are longstanding, and the result of successive governments failing to address core concerns of teachers and education professionals.
The underinvestment has caused an education workforce shortage. For example, the pool of day relief teachers at primary and secondary schools has decreased 31% over the past decade. A decline in Initial Teacher Education (ITE) enrolments has reduced domestic teacher supply and is only now beginning to improve, while the student population in the compulsory sector has grown by around 50,000 students.
Tertiary Education and Training
Over the past 20 years, government funding of the sector has not kept pace with inflation. This has resulted in uncertainty and persistent cuts to staffing. Meanwhile, Institutes of Technology and Polytechnics have undergone one of the largest state sector reforms in the last three decades.
The tertiary education sector needs government funding to be indexed to inflation. It also needs a cash injection for short term stabilisation, pay equity in the university sector and pay parity for Te Pūkenga and to address the pay gap between university and wānanga staff.
Further staff cuts are anticipated, which will reduce training and learning opportunities, particularly in regions with high unemployment.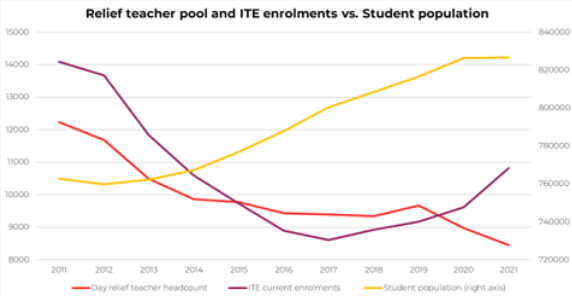 What does the Budget do?
The Government is investing $3.6 billion total operating and $1.3 billion total capital in education initiatives.
Early Childhood Education
Budget 2023 delivers an extension of the 20 hours free ECE subsidy to 2-year-olds. This comes at a cost of $1.2 billion over four years and will be available from 1 March 2024. This year's budget also delivers an additional $322 million to support services to move toward pay parity for teachers in Education and Care services.
In addition, a small funding boost for Pacific Early Childhood Education was provided with $5.3 million over three years.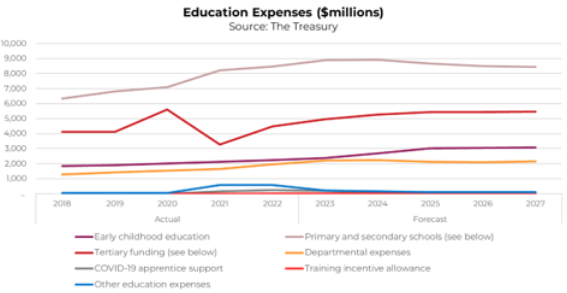 Compulsory Schooling
In the compulsory sector, there was a sub-CPI cost adjustment in operational grants of only 3.5%. Schools use these grants to pay for day-to-day running costs and for support and admin staff. This real decrease in funding will put further pressure on schools to meet these costs. Budget 2022 delivered only a 2.75% increase in funding while CPI sat at 6.9%.
There were welcome initiatives in Māori education. This includes $112.5m capital and $21.9m operational spending. In addition, Budget 2023 includes nearly $40m of funding over four years toward Māori led initiatives.
A small boost to professional development for schools is welcomed, however at $26m over three years, it will have to be spread thinly over more than 72,000 teachers currently in the sector. In April, Education Minister Jan Tinetti committed to minor improvements in curriculum staffing entitlements for Year 4-8 classes in primary and intermediate schools. These years currently have the worst teacher-to-student ratios in compulsory schooling.
This Budget promises $400 million total capital funding to ensure the education system can accommodate the estimated additional 100,000 children who will be going through the education system by 2030. This includes $300m for an extra 300 classrooms, made up of $200m to ease existing pressures, and $100m to accounting for future population growth. The remaining $100 million will allocated to the construction of up to four new schools and school expansions, the first two in central Auckland and Papamoa.
The Government has allocated education infrastructure funding in response to Cyclone Gabrielle and recent severe weather events. $31m is promised to immediately repair the more than 500 flood-damaged schools and $85m for ongoing work to their pre cyclone-state. A further $700,000 over two years has been earmarked for Special Reasons Staffing funding, with $315,000 of that available immediately. It can be used to employ extra staff, give them release time, and support student wellbeing. $782,000 has also been provided for the replacement of school library collections and resources lost in the flooding.
Tertiary Education and Training
The Budget extended the Apprenticeship Boost programme through to 31 December 2024. The Government invested an additional $17.1 million of new funding in this Budget to enable around 30,000 apprentices to receive support. Apprenticeship Boost provides subsidies to employers of eligible first- and second-year apprentices to support those working toward a qualification.
Overall there was a 5.3 per cent increase in tertiary tuition and training subsidies to maintain quality and accessibility. This comprises a 5 per cent increase to all subsidy rates to support providers, as well as an additional phased increase in subsidy rates for te reo Māori and other Mātauranga Māori provision.
Significant reprioritisation of existing funding has taken place. This includes $280 million total funding from fees-free education, due to the uptake being below forecast.
NZCTU ANALYSIS
Early Childhood Education and Compulsory Schooling
The government has made early learning a priority in Budget 2023, and the extension of the 20 hours free ECE subsidy is a significant investment. Further to this, additional funding for pay parity for Education and Care kaiako makes good on the Government's 2020 commitment by extending funding to cover the full 11 steps of the Kindergarten Teachers Collective Agreement (KTCA).
While these investments in ECE are strongly welcomed, Budget 2023 doesn't deliver as well for the compulsory schooling sector. The pre-Budget announcement of improvements of ratios for year 4-8 students signalled a move in the right direction. However tumuaki, kaiako and other education kaimahi who have been fighting for this for a long time are going to have to wait longer to see how much the Government is willing to invest.
Tertiary Education and Training
"We see this as the first sign of genuine recognition of the significant underfunding that the tertiary education sector has been grappling with for decades. The 5% funding boost announced today should go some way to ensuring students have access to quality education, provided the institutions invest in people. Looking long term – we are ready to talk, as staff and students, to address the historic underfunding that has destabilised provision." — Te Pou Ahurei | National Secretary Sandra Grey
In last year's budget, the Student Achievement Component (SAC) funding, which comprises around 75% of income for universities and other providers, was budgeted to increase by 1.2% from January 2022 and 2.75% from January 2023 at a time when inflation was running at 6.9%. The announcement of a 5% increase from 1 January 2024 comes at a time when inflation remains high at 6.7% after hitting a thirty year high of 7.3% last June.