Measures to ease the cost of living featured heavily in Budget 23.
These measures support real wage growth for workers across a raft of sectors, while ensuring that the public institutions that protect workers' rights do not fall behind due to increasing costs.
"A Fair Pay Agreement for hospitality workers is essential. The hospitality industry needs effective and enforceable minimum standards to ensure that its workers receive the kind of basic protections that all workers should already be entitled to- things like regular rest breaks, clear finish times and getting paid for every hour worked."

– John Crocker – UNITE
STATE OF THE SECTOR
The rising cost of living is having a heavy and negative effect on New Zealand households. For most households, paid employment is the main source of income. It is important that wages rise at a rate higher than the rising cost of living to stop real terms pay cuts to Kiwi workers.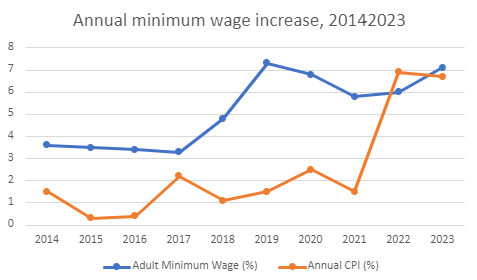 This year the Living Wage increased from $23.65 to $26.00, reflecting the price increases that workers face. The Government has a longstanding commitment to pay the Living Wage to directly employed public service workers.
We have also seen an increase of $1.50 of the minimum wage to $22.70. While this is the highest increase yet, it was still fractionally below the inflation rate (0.1%) showing how much wages need to rise to keep pace.
Although some individuals choose to work as contractors intentionally, for many others, being a contractor means experiencing insecurity and a lack of support. Unfortunately, the Government's efforts to reform the status of contractors has been suspended, leaving numerous vulnerable workers without necessary protections.".
Over-reliance on immigration to grow New Zealand's workforce has contributed to lower wages. Exploitation also remains a critical issue for some migrant workers. While the Government has taken steps to improve protections for migrant workers in recent years, there is still more work to be done. It is important to ensure that migrant workers are fully protected and that wages are raised by investing in the development of the domestic workforce.
New Zealand's health and safety record is still dangerously poor. When compared to other countries, our rates are twice as bad as Australia and four times as bad as the UK. Health and safety regulator WorkSafe desperately needs more funding to ensure its inspectorate is well resourced.
However, this alone will not be sufficient to keep Kiwi workers safe. The Government needs to commit to further improving our health and safety legislation and regulations. This would include introducing corporate manslaughter legislation.
Fair Pay Agreements promise to raise the pay and improve the conditions for thousands of working people. To do this, the capacity of the Employment Relations Authority and the Labour Inspectorate must be increased. The Labour Inspectorate was promised to double in Labour's 2017 manifesto, but this is yet to happen.
BUDGET ACTIONS
Minimum wage for disabled workers
The Government has funded the end of the Minimum Wage Exemption Permits through a total amount of $37.3 million. From this funding, approximately 800 disabled workers will see an increase in their wages when the new scheme is implemented. This funding will see the exemption permit replaced with a wage subsidy. This subsidy will ensure these workers are paid at least the minimum wage, like every other wage and salary worker in New Zealand.
Health workers remediated for Holiday pay
$2.2 billion has been appropriated to pay historic Holidays Act non-compliance owed to staff in health. Payments are set to start next quarter and remediation is expected to be completed by 30 June 2024.
Apprenticeship boost boosted
The Government has provided funding of $17.1 million to extend Apprenticeship Boost until the end of the 2024/2025 financial year. This will encourage employers to take on apprentices, and enable 30,000 apprentices to start or continue receiving support.
Public transport wage relativity
$26.4 million in funding is provided over 4 years to restore wage relativity between school bus drivers and public transport drivers.
Government Institutions
Seven new Employment Relations Authority members and nine new MBIE-provided administration staff and frontline regular officers are going to be funded by $15.2 million over 4 years to meet high demand.
Cost pressures on the Immigration Portfolio are being helped by $29.4 million over 3 years to manage the demand on visa processing services.
WorkSafe NZ has been provided $23.9 million over 4 years to set up an independent WorkSafe ICT system, and on Employment Services to meet its obligations as the employment regulator.
Tourism industry transformation plan
$6.5 million has been allocated to implement the Tourism Industry Transformation Plan. This will increase opportunities for upskilling workers, and raise employment standards to help attract and retain workers.
CTU ANALYSIS
The 2023 Budget is presented as a balanced budget, yet it has still delivered for many New Zealanders. The budget reflects the impact of rising living costs, as evidenced by the allocation of funds to address cost pressures in various areas. This funding aims to alleviate the operational expenses of the system and highlights the necessity of increasing wages for workers. This increase is necessary if the Government will continue to meet its commitment to pay its public sector the new Living Wage.
Addressing cost-of-living
Many of the big-ticket items in Budget 2023 will help reduce the pressure on the wages of workers, particularly the improved access to childcare, continuation of cheaper transport costs for our young workers, and the removal of prescription charges.
Employment relations infrastructure
Worksafe NZ has received increased funding to meet with some of the pressures. The Employment Services received extra funding to help with their employment regulator role. However, without significant funding to help grow WorkSafe as a world-class regulator, New Zealand's poor health and safety record is at risk of remaining stagnant – an untenable situation for the union movement.
Seven new Employment Relations Authority members will ensure workers get timely access to the system. More still needs to be done in this area, including increased funding within the Labour Inspectorate. Further resourcing of the Employment Relations Authority and the Labour Inspectorate would also assist in ensuring the long-term viability of the Fair Pay Agreement system and ensure that Fair Pay Agreement terms are enforceable. The Fair Pay Agreement Act 2022 offers the possibility for effective minimum standards to be set for the occupations and industries where they are most needed. However, no specific funding is set aside in the budget to support this system.
End to Minimum Wage Exemptions
The elimination of Minimum Wage Exemption permits is a step towards abolishing the systemised discrimination against disabled workers. This progress follows the sustained advocacy of disabled workers, unions, and other organisations.
Although, this is achieved by subsidising employers to pay disabled workers the standard minimum wage. A more cost-effective measure would be to simply require all workers to be paid at least the minimum wage for any work done. Such an approach would also affirm the dignity of working people and their work.
Targeted spending for small businesses misses workers
Small Business Services are also allocated $5.754 million over the next four years to provide programs and guidance for small and medium sized businesses. Equivalent funding is not provided for resourcing initiates that specifically benefit workers.
Upskilling the workforce
The apprenticeship boost will aid in our reduction of overreliance on migrant workers as 30,000 apprentices will either start or continue their training under this scheme until the end of 2024. Migrant workers are still a part of the Labour Market and more funding for employment protections, and assisting pressure on visa demand will support our migrant workforce.